World Premiere of Dollar Storm Slot Machine Debuts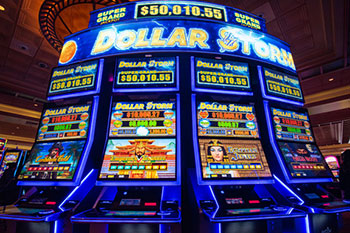 San Manuel Casino and Aristocrat announced that the next evolution of "hold & spin" game play launched with the world premiere of Dollar Storm. From the creators of industry changing games Lightning Link and Dragon Link, Dollar Storm debuted exclusively at San Manuel Casino in Highland, CA, on September 19, with nationwide locations to follow.
"We strive to provide our guests with a best-in-class gaming experience by offering the newest and most innovative games in the country," says Kenji Hall, chief operating officer at San Manuel Casino. "We couldn't be more excited to present the world premiere of Dollar Storm which joins the rest of our innovative gaming options."
"We're excited to unveil Dollar Storm as the next evolution of slot play that sets Aristocrat apart," said Jon Hanlin, vice president of commercial strategy for Aristocrat Gaming Operations. "Dollar Storm combines the best award-winning aspects of both Lightning Link and Dragon Link, adds new titles, more denomination choices, and a $50,000 'rapid hit' multi-site progressive for great jackpot action."
Building on the industry leading Lightning Link and Dragon Link, Dollar Storm electrifies the "hold & spin" and progressive gaming action on the casino floor with more winners, more often. Dollar Storm features five levels of progressives and maximizes progressive energy with a rapid-hitting Super Grand $50,000 Multi Site Progressive (MSP) jackpot that combines with Aristocrat's new premium signage to create a unique and active player destination. Unlike any other MSP jackpot game in the market today, the MSP may be won on any bet, on any denomination played – keeping everyone in the game for the big jackpot.
Dollar Storm offers four new games, each with their own free game twist, which have been designed to maximize player appeal and entertainment. In addition to Dollar Storm, San Manuel Casino features more than 1,500 Aristocrat games, including the popular Lightning Link and Dragon Link.